Over the past 40 years, Whitewater Clubs in Ontario have introduced thousands of paddlers to whitewater.  Whether you are adult looking for some paddling partners, or want to learn the sport, improve your roll in a pool, or simply get your kid into the sport you loved years ago, a club is the ideal source.
Club directors run a list of year round events with trip leaders and certified instructors.  Almost all run pool sessions in the winter, then Spring river trips, and summer instruction clinics, Ottawa River and Minden whitewater trips, camping trips with campfires, and off-season socials.
Each of their river runs are sanctioned so if anyone is hurt, sport accident insurance helps cover the cost of treatment etc.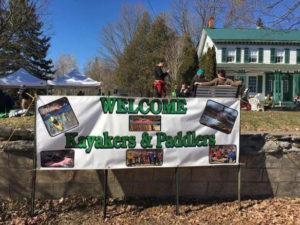 Most clubs have members who attend :
M.A.C.K. River Festival
Palmer River Festival
Hell or High Water
Kipawa River Festival
King of Clubs
All the clubs participate in a hilarious event called the King of Clubs on the Ottawa River in August.   It is a weekend of goofy clean on water activities to build teamwork, paddle ability, and technical river reading.  For a club to win the most points in King of Clubs is both a rite of passage and title of supreme competence.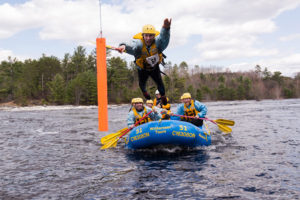 It is a pretty clean sport where individuals, couples, and families are all welcome, and are encouraged to run rivers appropriate to their skill level with support from the club team.
It may be selfish for the trip leader, but there is definitely encouragement to push oneself to raise your skill level.
The Club Listing & Contacts is as follows: