The Minden Whit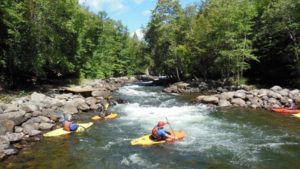 ewater Preserve is a 100 acre park with trails adjacent to a some of Canada's best whitewater rapids for park'n play kayaking and canoeing.  The MWP is privately owned and operated by Whitewater Ontario for the use of its members and their guests.
The Preserve's 100 acres include:
30 campsites with picnic tables and fire pits
Wifi
Area dedicated to pull-in trailers (no electrical or septic service)
large and small picnic shelters
playgound for young children.(not accessible due to COVID)
indoor and outdoor washroom facilities
hot and cold running water
3km trails for hiking and biking
Due to new insurance policies, all Day-Use and Overnight-Use requires a membership
Please be respectful of other campers in the Preserve. Dogs must be under control and poop 'n scoop policy in effect due to the presence of hikers, campers, and kids. There is a quiet time (no loud music, noise) between the hours of 11 pm. and 8am. Failure to comply with this may result in camper eviction.
Whitewater Ontario maintains a small fleet of boats at the Preserve which may be loaned out on the off season to members. See the boat loan policy for more information.
Location:
The preserve is located on a section of the Gull River just outside the Town of Minden, approximately 7 kilometers north east of Minden on Horseshoe Lake Rd. (2.5 hrs. north east of Toronto or 3.5 hours from Ottawa).
Click here for Google Maps....
https://www.google.ca/maps/place/Minden+Wild+Water+Preserve/@44.9654908,-79.8032241,8z/data=!4m5!3m4!1s0x4cd5092a486141db:0xc78b4b77376f6ff4!8m2!3d44.9654908!4d-78.6826186
Day and Overnight Usage Fees:
2021 fees and registration links to be announced
Hiking at Minden Whitewater Preserve:
If you are looking for hiking trails in the area, the Minden Whitewater Preserve has around 9km of trails available for you to use! These double and single-track trails are marked with spray paint, colour-coded to match the level of difficulty. Dogs and bikes are welcome.  This property is home to many animal species and enjoyed by many people, please keep this in mind as you enjoy being outside! Please bring all your garbage out of the Preserve with you and clean up after your dog.
We ask that upon entering the Preserve, you visit the Welcome Kiosk (located in front of the Roger Parsons Center) to sign-in for Covid-19 contact tracing and receive a short orientation on facility use protocols.
Hiking memberships available: 
Purchasing a membership is encouraged to help us maintain the property and preserve the environment we use.
Individual Day-Use (5$), Seasonal Individual Membership (20$), Seasonal Membership for 2 Adults (30$), Seasonal Family Membership (40$; common residential address required).   Purchase is available online at https://forms.gle/mMPnp177C5biegZ89 or on-site with a Summer Student.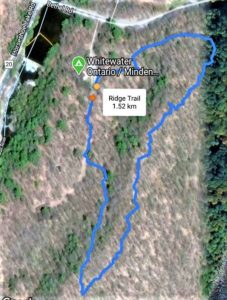 Roger Parson's Centre and Rental Fees
The Whitewater Preserve has a two storey Centre with a dining/meeting room, commercial kitchen, and supplies, washrooms, enclosed foyer, and tables and seating for 80. It is equipped with a large flat-screen TV for presentations.   It is dedicated in the name of the Roger who coordinated a team of volunteers to build the Centre and develop the property over a 4 year period from 1979-1983.
Rental Fees:
Day Use - $125.00 for members or $150.00 for non-members. Overnight sleeping is NOT permitted in the building.
Weekend Use - Friday evening to Sunday evening $200.00 for members or $250.00 for non-members. Overnight sleeping is NOT permitted in the building.
Holiday weekends Friday evening to Monday evening $250.00 for members or $300.00 for non-members. Overnight sleeping is NOT permitted in the building.

Important information to know:
All rentals are subject to $200.00 security deposit. The deposit is non-refundable if significant damage occurs or fixtures/appliances are damaged and/or missing. Damage in excess of $200.00 will be charged ag

a

inst the renter. The deposit will be lost if keys are not returned at the end of the rental period.
When renting the kitchen a deposit of $100.00 must be paid in advance and will be refunded if the kitchen is left in good order.
Camping fees are additional to Building Rental.
Day use only refers to daytime use and does not include overnight use unless the following day is also rented.
Deposits will be refunded one week following rental period. General security deposit will be lost if keys are not returned at the end of rental period
WO Hosted Events
The Preserve hosts a number of week/weekend events throughout the summer (WO Instruction Clinics, Open Canoe Race, Slalom Events etc.) often involving out of province participants and where the RPC is utilized as a base of operations. In the spirit of promoting paddle sports, organizers of these events are not required to pay a rental fee for use of the facility.
Any Group (including all sanctioned WO events) using the RPC for cooking meals and the meeting room,, are required to clean up from their use of the RPC and related rooms. Should it not be cleaned, swept and mopped, an invoice shall be sent for external cleaning services.
Group Organizers Must:
confirm membership affiliation of participants (i.e. WO or PSO)
collect camping fees at the time of Event Registration
clearly separate registration fees from camping fees
submit payment directly to the WO office
For all rental information, please contact the Whitewater Ontario office at 1.888.322.2849 or via our contact form